Swainson's Hawk are becoming a casualty of the Sixth Extinction.
Blog post May 21 2016 by David M. Boje, Ph.D.
We have to recognize what is causing the extinction of Swainson's Hawk.  It has something to do with New Mexico State University's own construction sites (at Renfrow Gym, in the parking lot next to it, the 2 year's of Dominici Building construciton and its grounds, and so many other campus sites. It has to do with the the Aggie preference for row crops in New Mexico. It has to do with the use of DDT in Argentina agriculture.  All these Human changes relate to the shrinking Habitat that is a game-changer for the Swainson's Hawk survival.
Right now, the world is in the midst of what scientists call the sixth great extinction. The rate at which species are disappearing forever is as much as 100 times higher than expected. That's why we need your voice more than ever this Endangered Swainson's Hawk pair. 17% of bird species are gone.
First Five Extinctions "In the last half-billion years, life on Earth has been nearly wiped out five times—by such things as climate change, an intense ice age, volcanoes, and that space rock that smashed into the Gulf of Mexico 65 million years ago, obliterating the dinosaurs and a bunch of other species" (Nadia Drake 2015 National Geographic).
The Sixth Extinction In a new book by Elizabeth Kolbert, The Sixth Extinction that won this year's Pulitzer Prize for general non-fiction: "The new study that's generated so much conversation estimates that as many as three-quarters of animal species could be extinct within several human lifetimes, which sounds incredibly alarming" (as cited in Drake, 2015).
I believe the Swainson's Hawks are swooping and dive-bombing to bring awareness to Humans of the Habitat loss and the elevated extinction of species. The Swainson's Hawk is especially vulnerable to the Habitat loss being caused by Humans. The Swainson's Hawk species at NMSU is in great trouble. With Habitat loss, the range of the live-able space ha shrunk, and the Hawk is adapting by taking up residence by Renfrow Gym, even though its under construction, and has been hunting food in Regents, Frenger, and Dominici which has been in active construction the past two years.
The Earth has been stripped of up to 90% of its species five times before in the past 450 million years. Now it's happening again—and this time there's no rogue asteroid responsible (Jeff Kluger, Time, 2014). " We can either start to change our ways, or we can keep going the way we are—at least until the Anthropocene extinction claims one final species: our own" (IBID.).(Anthropocene is a proposed epoch that begins when human activities started to have a significant global impact on Earth's geology and ecosystems) Wikipedia.
What has Swainson's Hawk  to do with Antenarrative?
Antenarrative Theory (Boje, 2001, 2008, 2011, 2014) and work by Marita Svane makes connections between Heidegger and antenarrative types.
Drawing of Antenarrative relations by Marita Svane (see Boje, Svane, Henderson & Streval, in press; Svane & Boje, 2014; Svane & Boje, 2015; Svane, Boje & Gergerich (2015)
Antenarrative processes are Ante (before) narrative coheres into emplotment by fore-having actions that prepare the way for narrative emplotment. Ante (bets) are prospective sensemaking of future paths arriving that we encounter by fore-sight. Ante (between) connects the living story (aliveness) with movement into grander narratives (deadness) by actions of fore-structuring. Ante (beneath) is all the hermeneutic fore-conceptions necessary to even articulate narrative emplotment. Ante (becoming) is the heart-of-care emerging.
The Before Antenarrative – the Anthropocene of human activities has something to do with the Swainson's Hawk dive-bombing humans, getting our attention as a University, that the Hawk is being prevented from having a successful nest, engaging into Reproduction, hatching 1 to 4 eggs, training the fledglings to fly again south to Argentina in the Fall for the Winter.
The Bets Antenarrative – New Mexico State University had made strategic bets on the future. One bet is that by destroying the Swainson's Hawk nest several times each week, the Hawk pair would move to a try farther from campus, but in fact the Hawk Pair after several weeks of struggle in two of the Renfrow Mulberry trees, did move closer to the heart of the campus to the Fir Tree at corner of Stewart St. and Williams Ave.  You can review the bets below, as the strategy had to change with contingencies, one being eggs discovered destroyed, another being that nest was engineered with such care, and recently discovery that a nest had been tossed with egg still in it, a violation of Federal Law, and now a different course of future is arriving and has to be considered in the University strategy response to Hawk's 6th Extinction Event. The fore-sight of the newest bet is that humans can learn to be aware, to understand their answerability (blame) for the Hawk's driven to dive-bombing, to swooping the unaware Human.
The Between Antenarrative in this movement, this unfolding is in the fore-structuring of ways the Humans and Hawk can co-exist.  Fore-structuring means that a number of structures (infrastructure, training structure, webcams, new signage, new logo) must be put into place so co-existence can unfold into an emploted [petrified] narrative (as Barbara Czarniawska calls it) or a proper story with a narrative contract (as Yannis Gabriel calls it), or some dominant narrative and counter-narratives do their dialectic dance, with still more between-antenarraitve dialectic fore-structuring.
The Becoming Antenarrative of a Heart-of-Care is happening. The workers and administrators are between a rock and a hard place, wanting to care for Human safety from the Hawks, and wanting to care for the Hawks so they are safe from unaware Humans.  The University is awakening to the many other universities such as Cornell that have worked out ways for University and Hawk to co-exist, and even to profit from one another, the University by its branding and merchandising, the Hawk by getting unmolested Habitat, and Humans instructed to exercise care and concern for Hawk species.
EXERCISE: Compare the Video from Cornell https://www.youtube.com/watch?v=VtqOOfmlqWk with this next video I filmed at New Mexico State University. Please make a list of the differences, and you will understand a difference in their Becoming, their Bets, their Between, and their Before some proper story or petrified narrative was emplotted.
See what it took to bring live streaming video of a pair of Red-tailed Hawks on Cornell's campus. The technical crew worked day …
But what is the Heart-of-Care all about at New Mexico State University?
MaMa and PaPa Swainson Hawk had spent the weekend building the nest (70% complete) after it was destroyed Friday. An Egg has fallen to Earth, possibly on Sunday, before the nest was finished.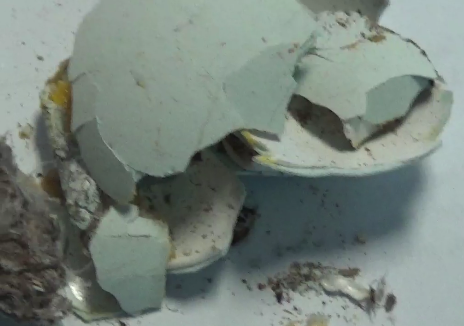 May 2 2016 Photo of Fallen and Broken Swainson's Hawk Egg, 'Before' the Heart of Nest could be completed by D. M. Boje (used by permission)
8:32
Fourth Video Abstract: After a month of the Swainson's Hawk nest being deconstructed in the two Mulberry trees next to Renfrom Gym, on Friday May 6th, the pair moved to a new nesting sit in a Fir tree, located a block closer, and right at the Regents Row offices, just south of Frenger Food Court and the newly finished Dominici Policy Building (one of three Business College buildings). Next, the 'heart of the nest' lies beneath the Fir Tree, after the contract workers (calling themselves, 'the Muscle') deconstructed the latest nest, but left the heart of the nest on the grass, just below, and between two signs stuck in the lawn, on the corner in front of Regents Row building, as a Regents Professor ('I') shoot the film.

May 9 2016 Photo of Fallen Swainson's Hawk Nest by D. M. Boje (used by permission)
Now the Becoming of a New Heart-of-Care at my University, as contingency happens to change a course of strategy.
Professor Carol Campbell video, Monday May 16 2016. In this film the NEST with the EGG in it, are thrown to the ground by the work crew. Once Again NMSU has been reported to US Fish and Wildlife. This is a change to earlier protocol of never disturbing a nest with an actual egg in it.
2.52 Minute Video (this is shot at end of video [2.45] of worker tossing Nest and Egg to the ground. This appears to be a violation of Federal Law: the destruction of an achieved nest with egg. The Egg was turned over to Federal Authorities
https://www.youtube.com/watch?v=oYxtpHp4aAc
So we have this amazing opportunity to pick a different path, and become a bit more posthumanist, and welcome the Hawk, will caring for them, and for ourselves.
For more Dialectical Storytelling and how to apply Antenarrative, please see